What is the Street Soccer 'EQUALITY' campaign fare?
Street Soccer 'EQUALITY' campaign was a one-day inclusive awareness-raising, advocacy and behavioural changes activity event that attracted over 100 participants ages 12-40 years. The event featured 10 teams resident of the new Gulu City consisting of Two U12 teams, two U16 teams and six Youth Teams (17 + years of age) who competed in the 4 V 4 mini soccer (adopted from the Homeless World Cup) hosted at Pece Primary School, October 10, 2020. Two groups A and group B were staggered to play a mini-league. 6 league matches were played concluding a mini-league in group A and group B for the ages 17 and over.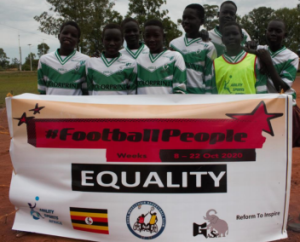 How does street soccer help combat discrimination?
Fare's commitment to tackle discrimination through football's inclusive power is based on the principle that the game, as the most popular sport in the world, belongs to us all and can propel social cohesion. Fare combats all forms of discrimination, including racism, far-right nationalism, sexism, trans- and homophobia and discrimination against disabled people.
The Street Soccer 'EQUALITY' campaign Fare #footballpeople one-day inclusive awareness-raising, advocacy and behavioural changes activity event has been a success. A disabled Persons Organisation yet again organized a football event for the community clearly demonstrating that persons living with disabilities are differently-abled. Due to heavy downpour previous night, in the morning and logistical challenges, we were not able to showcase wheelchair basketball game for the participants as planned. We also faced challenges of mobilizing a female team to participate in the event. No female football team was yet practicing during the pandemic lockdown. Boys have always sneaked in the hidden community playfield to play football and were easier mobilized for the football week event.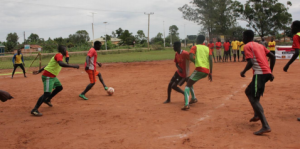 A day of fun and sport with the press in attendance
Top two teams in each group faceoff in semifinals. Winners in either semis contested the finals. The U12 boys and U16 boys played head-on finals to determine champions in their categories. Each of the total 12 matches lasted 15 minutes comprising of two 7 minutes interval per game and one minutes rest. In total there were 12 matches played and 97 goal scored during the tournament. Winterburry A beat Gunners in the finals to emerge #footballpeople champions 2020. Cash Price and balls were awarded to winners in all three categories U12, U16 and 17+ years. Refreshments, snacks and bottled water was provided to participants during the entire tournament. We are thankful for the financial and In-kind contribution from the Reform To Inspire, CEED, Ability Sports Africa and Gulu Athletic Sport (GASP). Appreciation to the participating teams Winterberry A, Winterberry B, Sparks, Hotspurs, Arsenal Gunners, Cubu FC, Blackstars, Young Stars, Cubu Youth FC, Jashton(U16), Northern Silk(U12), Young Boyz (U12), Northern Stars (U16).
Media houses: Radio Rupiny, Rupiny Newspaper, Radio Mega, Radio Pacis, Radio Speak, Radio Favour of God, Radio King, were present to cover and report on the match results of the tournament.
Format of play
Fare #footballpeople activity event Street Soccer "a small-sided soccer game", four players from each team on a miniature field (basketball court). Because there are fewer players and a smaller field, everyone has plenty of touches on the ball and chances to score! The game is played at a much higher pace, which helps players perfect all of the soccer techniques and tactics. Street soccer (4 V 4 adopted from the Homeless World Cup) requires that everyone on the team work together. Except we did not raise a hedge at the side of the court but simply marked the line for clear visibility during play.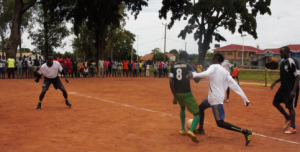 The tournament teams
The tournament attracted 2 players from Uganda top flight football clubs, Onduparaka and Maroons. A dozen players from second-tier football clubs in the Uganda football league, University students, high school students, primary school pupils and out of school athletes. About a dozen South Sudanese National currently living in Uganda were part of the campaign.
Six different teams were fragmented into two groups. Each team played a maximum of two (2) matches apiece completing the log table in the preliminary stage. The top two teams that accumulated more points from each group faced off with the corresponding runner up in the semifinals.
Group A
1. Winterberry A 5 vs 2 Blackstars
2. Blackstar 4 vs 3 Cubu YFC
3. Cubu YFC 2 vs 5 Winterberry A
Winterberry A won both their matches in group A. Blackstars won one and lost another. Cubu Youth FC lost both fixtures and sat at the bottom of the table.
Winterberry A and Blackstars qualify for semifinals as leader and runner up respectively.
Group B
4. Arsenal 3 vs 1 Winterberry B
5. 5. Cubu FC 2 vs 1 Winterberry B
6. 6. Arsenal 3 vs 3 Cubu FC
Arsenal won one match and drew another. Cubu Football Club also won a match and drew one to collect 4 points as Arsenal. Winterberry B lost both their matches and gets eliminated. Arsenal and Cubu FC both book semifinal places.
Semi Finals
Semi Final One
Arsenal 5 vs 4 Blackstars
Semi Final Two
Cubu FC 0 vs 6 Winterberry A
U12 and U16 Finals
Sparks (U16) 6 vs 2 Northern Stars (U16),
Sparks U16 had four (4) South Sudanese youth resident of Gulu District.
Northern Silk(U12) 4 vs 2 Young Boyz (U12),
Young Boyz U12 comprised of South Sudanese children resident of Gulu District.
Finals
Arsenal 3 vs 5 Winterberry A