International
Internships
---
Programs in Uganda
Currently Canadian interns are not travelling to Uganda but rather contributing virtually to our projects in Uganda. In regular circumstances, interns from Concordia University travel to Gulu, northern Uganda, for 3 months during the summer semester. In Gulu, they work alongside Ugandan interns on various community projects that are developed and led by our Ugandan office. Current projects focus on entrepreneurship, communications, research, youth education, and sustainability. Our internships emphasize social, community, and personal development through experiential learning and cultural and skills exchange.
CEED's internship projects strive to be responsive to community needs and put youth at the forefront as leaders and change makers. In all of our projects, it is important that interns interact with young people and other key stakeholders to understand the complex challenges our projects confront. Problem solving, flexbility, team work, and creativity are key ingredients to making any project successful.
CEED accepts applications from both undergraduate and graduate students. Current Concordia University students and alumni who have paid into our $0.35 / credit fee levy are given priority and reduced pricing, but students and recent graduates from other universities in Montreal are invited to apply. Students from a variety of academic backgrounds are welcome to apply, as CEED encourages diversity of knowledge, skills, and experience. Approximately 15 interns from Concordia are recruited each year and are then placed with Ugandan interns to form teams of up to 6 people. Each team is assigned to 1 project for the duration of the program.
For more information about our different projects, please see below the various internships we have had. Please be aware, some projects may be altered or cancelled if CEED fails to secure any necessary partnerships in Uganda required to implement the project, CEED is unable to recruit sufficient interns and the required skills, or for other reasons. Applicants are therefore encouraged to apply into 2 or more projects, and maybe asked to transfer to a different project if their internship applied for is cancelled. All of CEED's different projects offer opportunities to use and further develop a wide variety of technical and soft skills, and many passions and skills can be easily transferred and shared within and between the teams.
Internships
Virtual Tech Education Project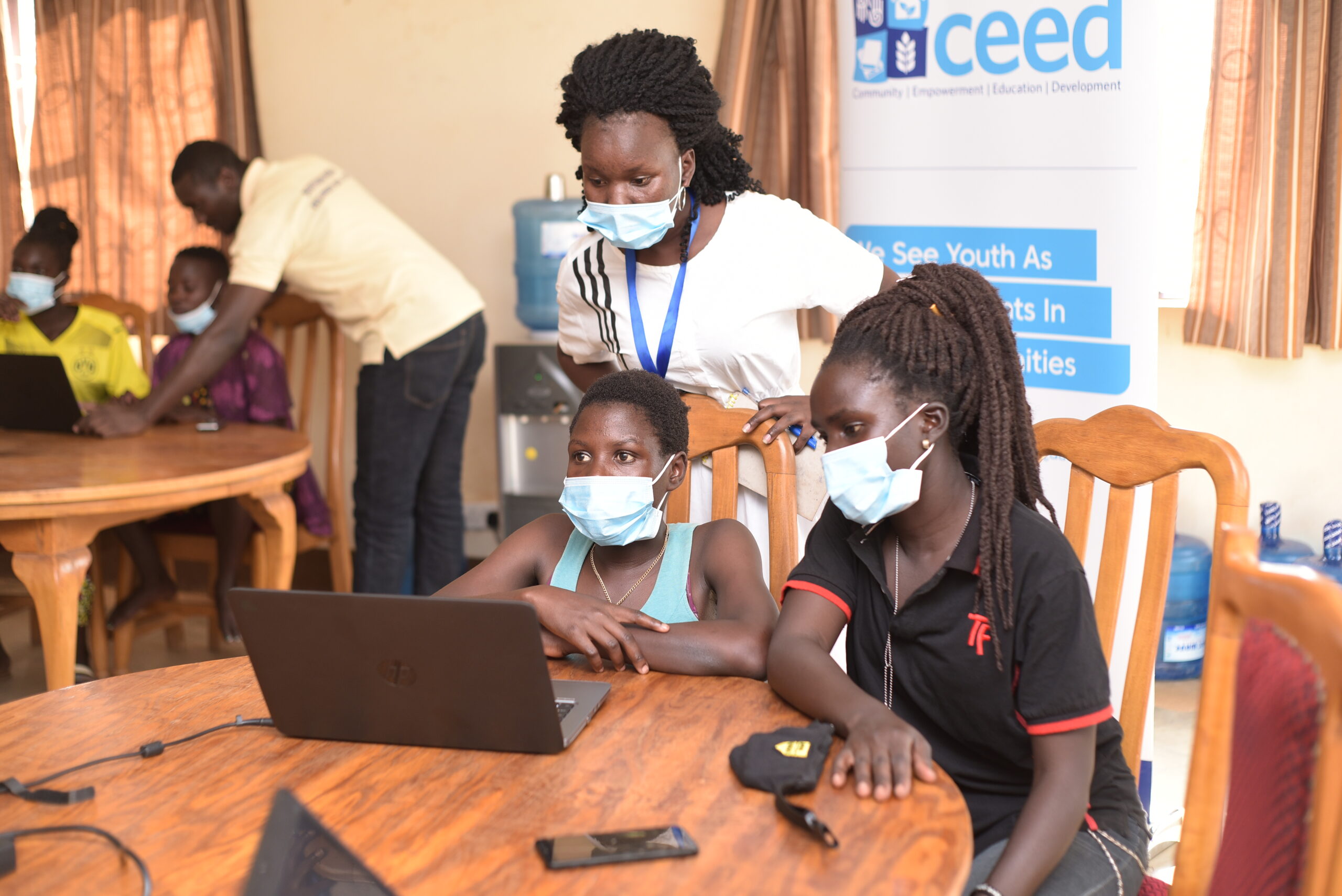 CEED Concordia interns, in partnership with Ceed Uganda interns, will develop and facilitate practical workshops for high school students in Gulu, that improve basic skills in Microsoft such as Excel and Word and introduction to coding. The aim is also to contribute to leveraging new technologies in the benefit of the teenagers' education and personal development.
This virtual internship program provides students with a valuable international learning experience, by incorporating them into a multi-cultural virtual workplace.
Objectives:

Building basic skills in ICT among Ugandan youth Bridging the gap between youth growth and needs for technical skills in ICT in Uganda Strengthening skills and providing an platform for students to engage with ICTs in developing countries Increasing interest for skill sharing via ICT amongst university students
Youth Entrepreneurship Project
This is our flagship program to respond to the SDG #1 No Poverty, #8 Decent Work and Economic Growth, #16 Peace, Justice and Strong Institutions. In response to the extreme poverty and high rates of unemployment among youth in northern Uganda, this project is designed to empower budding entrepreneurs with soft & hard skills training, start-up capital and workshops to enable them to tackle the challenge head-on.
YEP identifies 10 youth groups (50 young entrepreneurs) a year, to go through a rigorous training program and case competition to access start-up capital. Every year, three groups are selected to obtain start-up capital. They are then supported through workshops, mentoring, and technical backstopping during the course of their ventures.
Objectives:

To identify, train and support young entrepreneurs
To provide linkages to local entrepreneurship support groups
To provide growing small businesses with start-up capital
Youth Advocacy and Communications Project
This is our flagship program to respond to the SDG #5 Gender Equality and #10 Reduced Inequalities. The project offers an opportunity for young people to share their experiences, talking about the issues that affect them, while inspiring & motivating other youth in the community. We host a monthly Youth Radio Talk show dubbed "The CEED Young Achievers Talk Show" on 95.7 FM, as well as leverage the presence of young people on social media (Facebook, Tweeter, Instagram, Watsapp, etc) to reach out to them on various issues.
The emerging issues are then documented and shared widely with relevant stakeholders to inform them of our advocacy efforts on "working with" young people and not "working for" young people.
Objectives:

To provide a space for young people to share their skills, knowledge, and ideas with fellow youth
To document and share success journeys of "Young Achievers" to inspire action by other young people
To promote entrepreneurial ventures and share opportunities with the radio listeners
To support social activism among youth and advocate for the needs of young people in Gulu
Environmental Sustainability Project
This is our flagship program to respond to the SDG #12 Responsible Consumption and Production, #13 Climate Action and #15 Life On Land. This project focuses on two environmental challenges facing northern Uganda; waste management and deforestation. We support local communities by increasing awareness of these two issues while leveraging local solutions and sustainable alternatives.
Our waste management approach comprises of sorting and managing waste and building affordable composting systems in local schools. We also organize the annual "Gulu Go Green Marathon" to respond to the indiscriminate cutting of trees and to raise tree seedlings to be planted by young people in their schools and other parts of the community.
Objectives:

To create awareness & sensitize the public on the negative impacts of environmental degradation
To train young people on composting as a waste management practice
To document and share best practices on environmental sustainability
Video Documentary
This is our flagship program to respond to the SDG #4 Quality Education, #10 Reduced Inequalities, #17 Partnerships for the Goals Documentary films are increasingly being used as an innovative platform to engage and mobilize diverse communities towards social change.
This project compliments and highlights the grassroots efforts of local stakeholders and organizations. The filming process and the films aim to be inclusive, participatory and accessible to the Gulu community. The documentaries often highlight critical issues that affect youth in the Gulu community such as unemployment, climate change, access to education, amongst others.
Objectives:

Build audiovisual and editing skills
Document and share stories of change in the community
Document main events and the progress of other CEED projects
Empower youth with access to knowledge through audiovisual media
Independent Projects (conditional on approval and availability)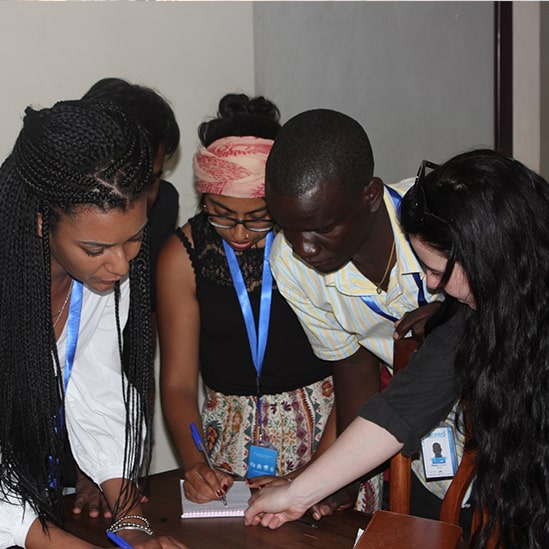 In select cases, CEED can allow students to engage in independent research or other projects. Like all our project teams, independent projects are cross-cultural in design and execution, so Concordia students with an idea should submit their project proposal and skill-set early to our office so the Ugandan office can review and contribute.
Out of season internships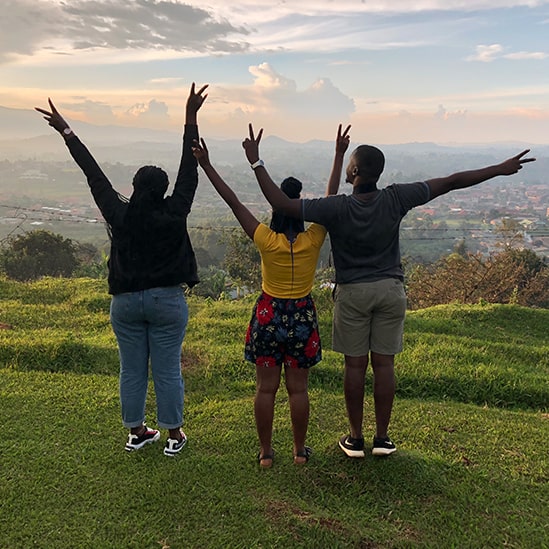 While most of CEED's internship opportunities in Gulu are during the Spring/Summer academic semesters (May to August), we also offer 3-6 month internships in Gulu during other periods of the year.
50 interns trained in videography
3 community screenings held
Gulu, Uganda
Identifier, former et soutenir les jeunes entrepreneurs
Fournir des liens avec les groupes locaux de soutien pour l'entrepreneuriat
Fournir aux petites entreprises en croissance des capitaux de démarrage
Il s'agit de notre programme innovateur pour répondre à trois objectifs du développement durable: Pas de pauvreté (#1), le travail et la croissance économique (#8), la paix, la justice et les institutions (#16). En réponse à l'extrême pauvreté et aux taux élevés de chômage chez les jeunes du nord de l'Ouganda, ce projet vise à donner aux entrepreneurs une formation pour peaufiner leurs compétences et un accès à des capitaux de démarrage
Chaque année, YEP choisit 10 groupes de jeunes (50 jeunes entrepreneurs) qui participeront à une formation rigoureuse et une compétition pour obtenir les capitaux de démarrage. Trois groupes seront sélectionnés pour recevoir les capitaux de démarrage. Ils seront ensuite soutenus par des ateliers, du mentorat et des soutiens techniques au cours de leurs projets.
About Gulu
---
In Gulu we have a compound from which CEED Uganda operates. It was designed and constructed by a team of designers and engineers from both Canada and Uganda, as a symbolic representation of our commitment and partnership with the Gulu community. Our facilities are a short walk from the town centre and include 24 hour security, solar panels, electricity, running water, and Wi-Fi. During in-field internships, our interns stay there and are also provided with 3 meals a day on work days. There is even a rain water harvesting system.
During their time in Uganda, interns stay at CEED's very own compound in Gulu.
---