20 speakers from 4 continents on 5 topics.
"The World Beyond Covid-19" webinar series gathered experts, innovators and leaders to discuss the impact of Covid-19 and how it's changing our world.
What did we discuss?
Community Preparedness, Climate Change, Technology and Privacy, Refugees and Human Migration, and Entrepreneurship, so here's what went down…
Oh, and make sure to follow us for more amazing events…
CEED Concordia                    The Refugee Centre                              Sustainable Concordia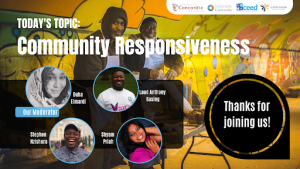 Topic: Community Preparedness
Date held:  July 11th, 2020
How are communities building resilience and how are grass-root level efforts aiding those most vulnerable to the economic and social instability that has been brought on by Covid-19? Our speakers answered this and more!
Speakers:
Stephen Nzishura – Chief Programs Officer and Sub-Saharan Africa Region Co-Director at FinMango
Laud Anthony Basing – Scientist, Engineer, Innovator and CEO and Founder of Incas Diagnostics, a social enterprise in Ghana
Shyam Priah – Psychologist, former Corporate Responsibility Strategist and Founder of Yellow House
Duha Elmardi – Atlas Corps fellow, a Global Changemakers Alumni, an Incitement ambassador and the Education and Engagement Coordinator for Sustainable Concordia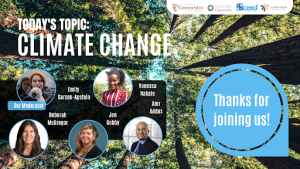 Topic: Climate Change
Date held: July 18th, 2020
Experts and activists from Canada and Uganda tackled the complex social nature of the climate and health crisis!
Speakers:
Emily Carson-Apstein – Queer Community Organizer, Artist, Student, Activist and Campaigns Coordinator for Sustainable Concordia
Amr Addas – Adjunct Professor and Director of the Van Berkom Investment Management Program at John Molson School of Business, Concordia University
Jen Gobby – Activist and Scholar
Deborah McGregor – Anishinabe, Associate Professor and Canada Research Chair: Indigenous Environmental Justice
Vanessa Nakate – Climate Activist
Important Links:
Jen Gobby's new book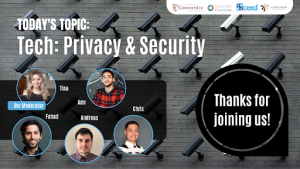 Topic: Technology and Privacy
Date held: July 25th, 2020
Our speakers debated topics ranging from contact tracing to surveillance capitalism to how apps like Tik-Tok affect your personal privacy and security!
Speakers:
Tina – Software Developer at Shopify
Chris – Software Engineer on the Microsoft Threat Protection team
Amr – Software Engineer (Microsoft, IMB & the Canadian Space Agency) and Concordia Graduate
Andreas – Security Consultant for Telus
Fahad – Founder of legal technology company SmartBail
Important Links:
https://duckduckgo.com/
https://www.humanetech.com/
https://www.priv.gc.ca/en/
https://www.eff.org/
https://www.centrefordigitalrights.org/
https://consultation.quebec.ca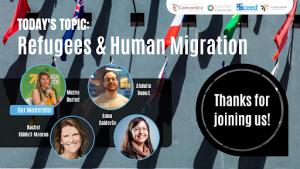 Topic: Refugees and Human Migration
Date held: August 1st, 2020
This accomplished panel of speakers discussed the impact of the pandemic on refugees and asylum seekers, how their organizations have adapted and how migrant communities have rallied to support their communities!
Speakers:
Anna Calderón – Executive Director at Say Ça
Rachel Kiddell-Monroe – Lawyer and a Health Activist
Abdulla Daoud – Executive Director of The Refugee Centre
Muzna Duried – Founder of the Indigenous Refugees Movement
Important Links:
The Refugee Centre
Website: therefugeecentre.org
Facebook page: https://www.facebook.com/TheRefugeeCentre
Instagram: https://www.instagram.com/therefugeecentre/
SeeChange Initiative
Website: https://www.seechangeinitiative.org/
Facebook: https://www.facebook.com/SeeChangeInitiative/
Instagram: https://www.instagram.com/seechangeinit/
Say Ca
Website: https://saycamontreal.ca/
Facebook: https://www.facebook.com/saycamontreal/
Instagram: https://www.instagram.com/saycamontreal/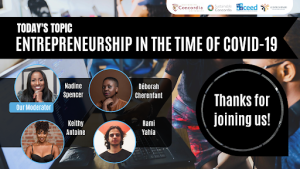 Topic: Entrepreneurship
Date held: August 8th, 2020
Our accomplished panelists discussed everything from discrimination in the business world to launching a business while pursuing a university degree!
Speakers:
Nadine Spencer – CEO of BrandEQ Group Inc. and President of the Black Business and Professional Association
Déborah Cherenfant – Quebec Regional Director for Women Entrepreneurs at TD Bank
Rami Yahia – Founder of CustomHeats
Keithy Antoine – Host, artist and Founder-Owner of Boutique Espace Urbain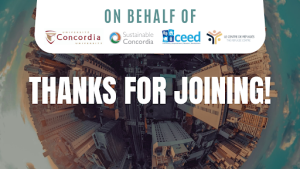 With each discussion diving into key issues humanity is facing, we hope you can take something away and apply it to your life or simply reflect on how your actions affect the world around you.
We'd also like to thank our amazing speakers, our partners and our main sponsor, the Concordia Student Union (CSU), without them, the events would not have been possible!
If you're interested in partnering with one of our organizations or want to know more about the event series, don't hesitate to reach out!
About the organizers:
CEED Concordia
ceedconcordia.org
They are a non-profit organization operating in Montreal, Canada and Gulu, Uganda. We are an organization dedicated to social justice, community empowerment, and positive change by supporting youth in our communities. CEED offers Concordia and Ugandan students an opportunity to contribute to sustainable community projects in northern Uganda for 3 month internships during the summer semester. Off-summer, CEED organize events: conferences, workshops to educate the Montreal community about subjects in sustainability.
The Refugee Centre – Le Centre de Réfugiés
therefugeecentre.org
They are a group of students and graduates who have worked to create an organization, which implores the student population to work together with the community to help strengthen the refugee & immigrant population through unity and integration.
Sustainable Concordia
sustainableconcordia.ca
They envision a university which teaches and demonstrates sustainability principles of ecological health, social justice, and economic equality. We envision a university which is run non-hierarchically by students, staff, faculty, and administration in a process based on transparency and maximum participation.
Written by: Camina Harrison-Chéry
CEED Concordia's Communications Coordinator